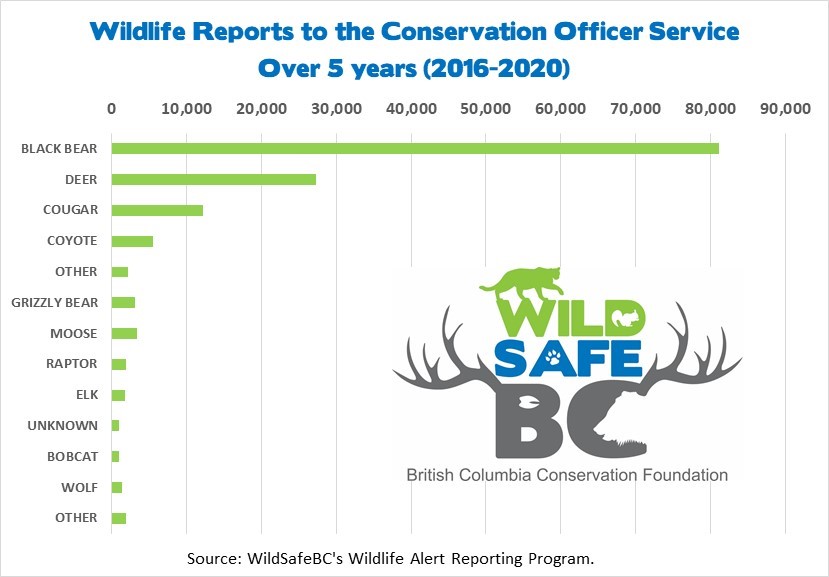 Our History
Founded in 1969 by the B.C. Wildlife Federation, the British Columbia Conservation Foundation (BCCF) is a registered society and charity. Their mission is "to promote and assist in the conservation of the fish and wildlife resources of the Province of British Columbia through the protection, acquisition or enhancement of fish and wildlife habitat."
Established to achieve 'on-the-ground' conservation success, BCCF has been involved in thousands of research, restoration, mapping and education projects since 1986. In 1998, BCCF was approached by members of the Revelstoke Bear Committee and the Provincial Wildlife Conflict Committee to adopt a leadership role in expanding the Bear Aware program to other regions of the province. Since that time, BCCF has helped to deliver the Bear Aware (now WildSafeBC) Community Programs to residents in hundreds of communities across British Columbia.
In 2019, WildSafeBC took on the development of a new five-year strategic plan in consultation with their Provincial Advisory and Sustainability Committee and input from WildSafeBC Community Coordinators. This led to the refinement of the Program's Mission, Values, and Vision and the identification of two key program priorities in order to achieve the desired outcomes.
The Need
Each year, the public makes over 25,000 calls to the Conservation Officer Service to report wildlife for a variety of reasons (see our WARP section). Some of these calls are in regards to wildlife that are in conflict. The results of these conflicts may be property damage, pets/livestock injured or killed, human safety put at risk, and wild animals being displaced, injured or killed. These conflicts are often preventable with increased knowledge of their causes followed by actions to address and mitigate them. The role of the WildSafeBC Program is prevent conflict with wildlife through collaboration, education and community solutions.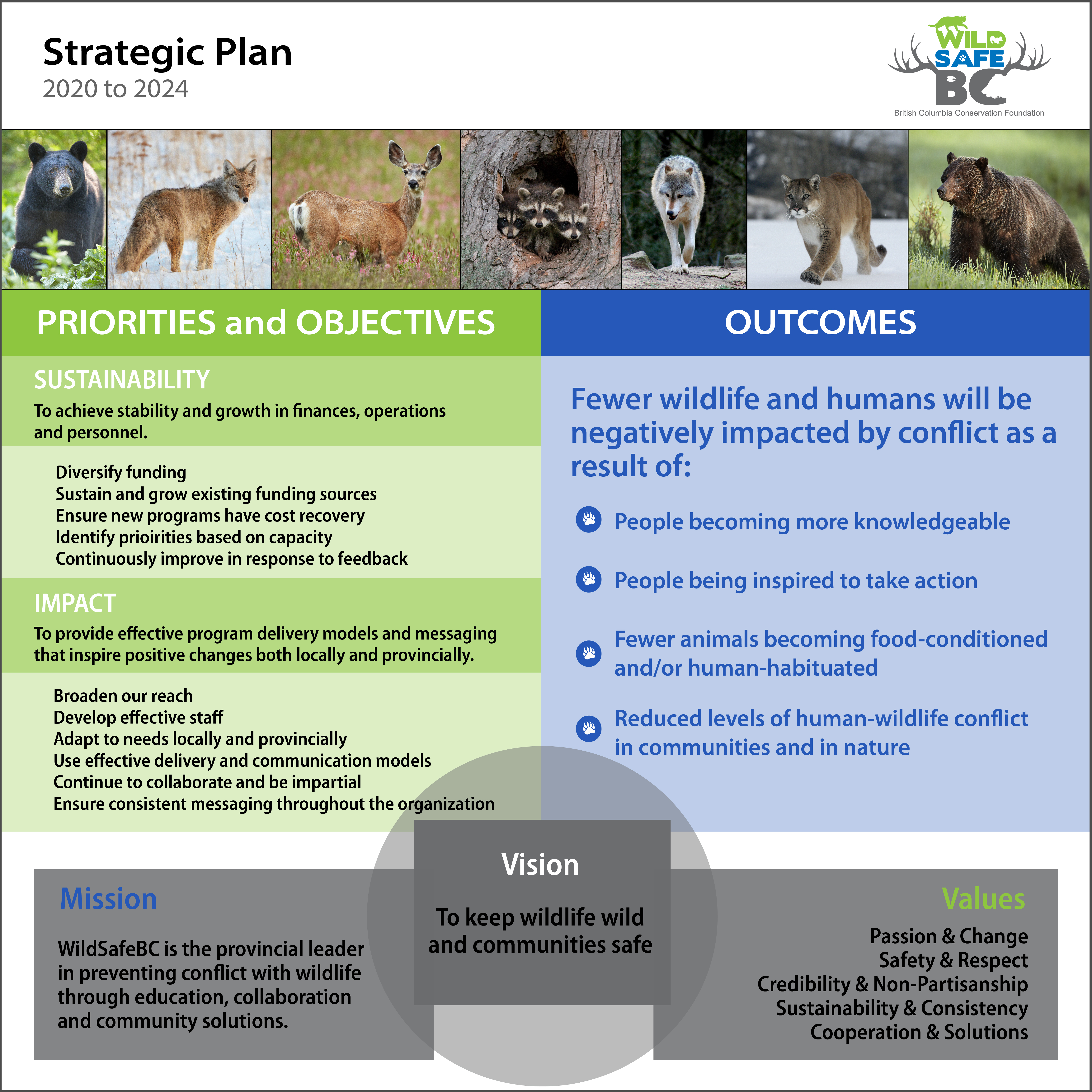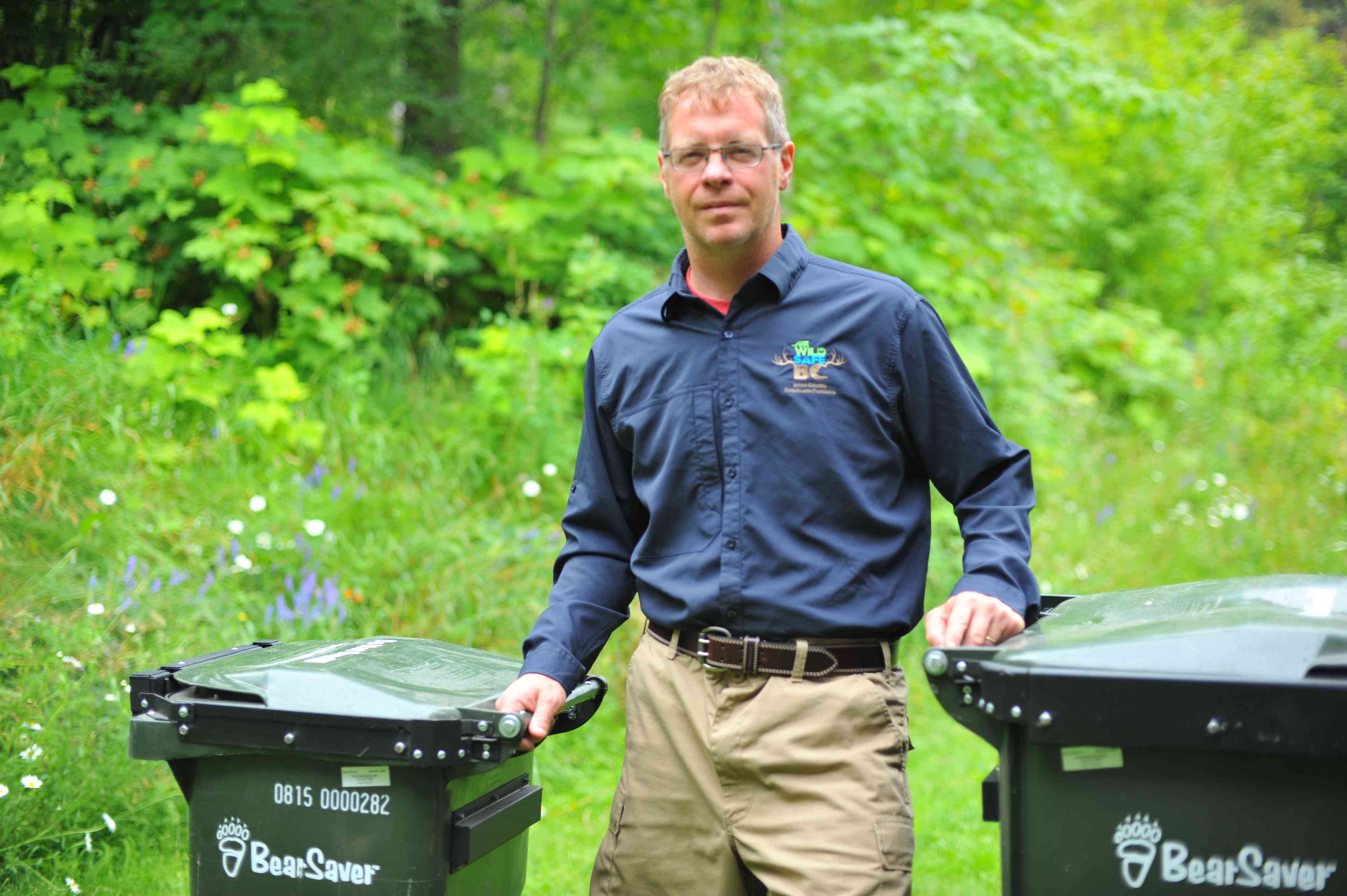 Supporting Communities to Become "Bear Smart"
In 2002, the Ministry of Environment began the Bear Smart Community Program, which helps detail the steps and procedures by which communities can reduce the frequency and intensity of human-bear conflicts. The process involves a shift from the reactive management of "problem" bears to the proactive management of the attractants that draw bears into the communities. This management plan includes components on monitoring human-bear conflicts, education, managing waste, implementing and enforcing bylaws, managing green space, and community planning.
WildSafeBC is the approved educational component of Bear Smart Community Program and supports communities on their path to becoming Bear Smart. There are currently 10 communities in BC that have achieved Bear Smart status with over 20 communities on the path to becoming Bear Smart.
More than Bears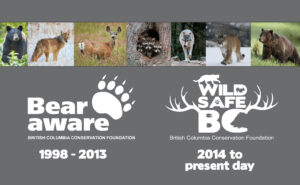 While the Bear Aware program dealt with the immediate concerns communities and the province had with bears, BCCF realized early on that conflicts with other wildlife were also increasing. As an answer to these other concerns, the WildSafeBC program was developed in 2013. While we still provide the information necessary to reduce human-bear conflicts, we also provide information on dealing with a wide variety of other species that we come into conflict with such as deer, cougars, coyotes and even rattlesnakes. Explore our species pages to learn more.