"Bare" Campsites are Safe Campsites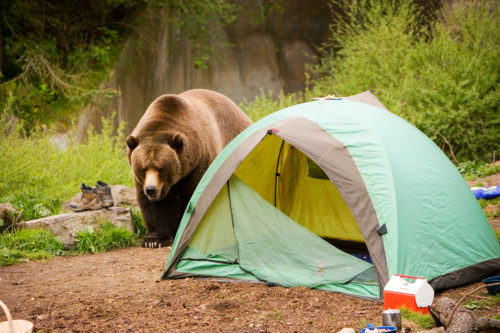 Do:
• Store food in lockers provided or in trunk of vehicle.
• Keep camping area clean and free of garbage.
• Dispose of grey water in designated area.
• Read and follow any notices posted by campground attendants.
Don't:
• Store food, soaps, toothpaste or other aromatic items in, or near, your tent.
• Cook near your sleeping area.
• Feed ANY wildlife - ever!
• Leave food in your camping area unattended.
To prevent an unexpected encounter with a bear while out hiking:
1. Hike in a group and make your presence known by talking loudly or singing - especially in areas where there is limited visibility and/or where it may be hard for a bear to hear your approach (e.g. alongside a loud river or stream).
2. Keep your dog on a leash, or better yet, leave your dog at home. The majority of black bear maulings in North America involve dogs.
3. Be aware of your surroundings and watch for fresh scat, claw marks on trees, logs torn apart or other bear sign.
If you do encounter a bear while out hiking or within your campsite there are a number of things that you can do to
keep yourself safe:
1. Remain calm and do not run; running can trigger an attack. Never turn your back on a bear but do not stare at it directly either.
2. If the bear sees you, talk to it in a low calm voice and take a step or two backwards.
3. Always carry bear spray with you and know how to use it.
4. Report any encounter with an aggressive bear by calling the Conservation Officer Service at 1-877-952-7277
Bears have an incredibly acute sense of smell and can smell the smallest item of food at great distances.
Bears are attracted to:
• Anything that we have cooked or are about to eat
• Dirty barbecues or camp stoves
• Any item associated with food prep or clean-up
(dish rags, scrubbers, pots, pans, etc.)
• Grey water pails and discharge
• Garbage, wrappers, empty bottles, cans, condiments, or anything that has been in contact with food.
• Containers for gas, oil, or other petroleum-products
• Pet food bowls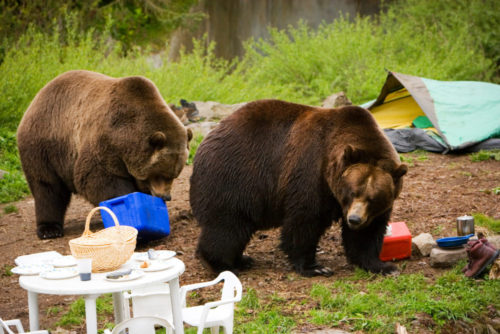 If there is a designated campsite, use it and any bear-resistant storage options that are available. If you are in an undeveloped area, practice the triangle approach to setting up your camp. Your tent, cooking area and food storage areas should be about 100m apart and form a triangle.
Where possible, food should be slung up by a rope system in an area inaccessible to bears (at least 4m off the ground and 3m from the nearest tree).
Inspect your choice of camping area closely and make sure it is not in an area likely to be used by bears. It is best to camp away from waterways or other features that may be travel routes for wildlife.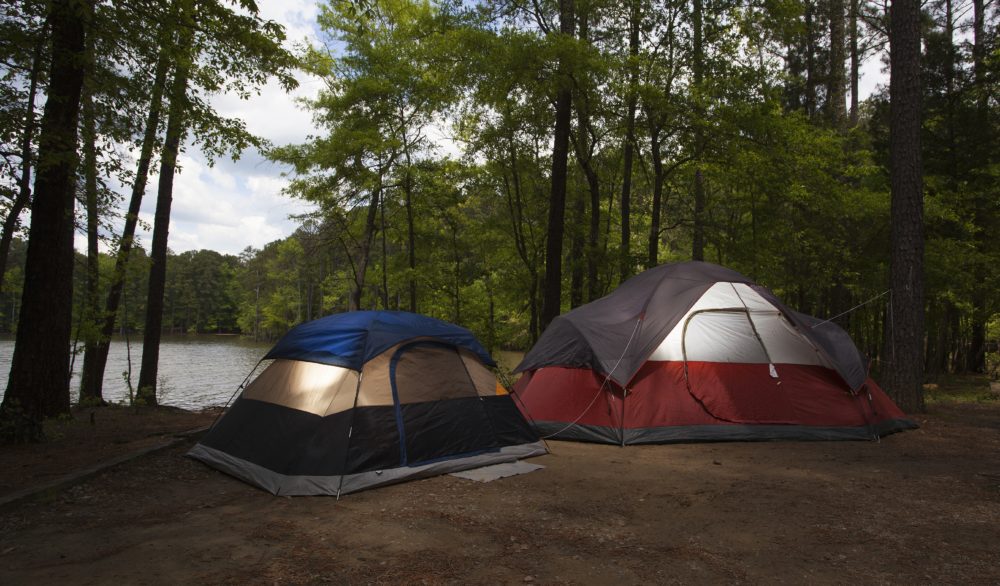 Camping is a great way to enjoy nature and the outdoors but there are a few simple rules you should follow to keep yourself, and the wildlife around you, safe from conflict.
Inspect the area around your campsite - check for signs of bears (scat, claw marks on trees, fresh digging or tracks).
Bears have long memories, your campsite may be clean now but if a bear received a reward there earlier, it may be back so always be vigilant.
Never take food with you into your tent - not even a small snack. A bear may smell it and investigate.
Cook in clothes other than those you will sleep in.
Use the bear-resistant food storage options provided by the campsite. If none are available, keep your food in the trunk of a vehicle or in a hard-sided RV.
Campsites should be free of all attractants whenever you are not present - this means when you go for a hike, a walk to the beach, bathroom, or are otherwise absent from the immediate area.
Do not feed any wildlife. This includes squirrels, birds, raccoons and other animals. The feed that attracts them is also a powerful attractant for bears.
Listen to your Park Attendants. They have far more experience in dealing with bears than the average visitor. Their goal is to ensure you have a safe and enjoyable camping experience.