WildSafeBC Bare Campsite Program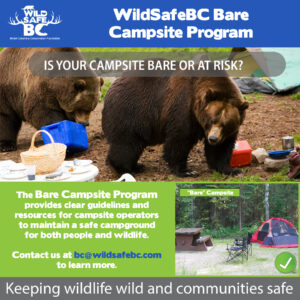 Camping in wildlife country brings unique challenges to keeping attractants secure and reducing conflicts with wildlife. WildSafeBC's Bare Campsite Program has been developed to support campground operators with resources and training in order to reduce conflicts with bears and other wildlife at their facilities.
It is based on Bare Campsite Program that was successfully implemented in the 1990s by Parks Canada. This successfully reduced the numbers of bears that became food-conditioned and has saved the lives of many bears. In addition, the campgrounds are safer and a more enjoyable experience for all.
Learn more about the Bare Campsite Program in the video below:
5 Steps for Success
Successful implementation of the Bare Campsite Program involves taking the following steps:
Create clear expectations before campers arrive and make them aware that they are going to a Bare Campsite Program campground.
Repeat Bare Campsite Program information when they arrive and during their stay.
Have bear-resistant infrastructure.
Provide Bare Campsite Program and Bear Safety training to staff.
Review campsites and detect concerns before wildlife does.
Campgrounds that have successfully implemented the 5 Steps for Success are invited to register and take the Bare Campsite Program Pledge. Registration forms can be downloaded here.
Resources and Online Training
In order to support campgrounds in Program implementation, WildSafeBC has developed online training for campground operators and for their staff. These courses are self-paced and can be completed at any time over a span of 3 weeks.  After taking the training, campground operators will have access to additional resources, many of which will be free to download. A free preview of the course is available here.
Bare Campsite Program and Bear Safety Training for Campground Owners or Managers
Time to complete is 1.5 hours. This course covers the following topics:
Introduction to WildSafeBC and an overview of the Bare Campsite Program
Survey results and feedback from the public and campground staff
Public education strategies and campsite reviews
How to perform a self-evaluation and take the Bare Campsite Program Pledge
Access to support materials (training manual, posters, review cards, education aids and more)
Bear Safety When Recreating

WildSafeBC's Wildlife Alert Reporting Program
Bear attack statistics and how to avoid negative bear encounters when recreating
How to respond in a bear encounter depending on a bear's behaviour
Link to Staying Safe in Bear Country video (additional 25 minutes but highly recommended)
Camping in Bear Country
Bear spray
Bare Campsite Program and Bear Safety Training for Campground Staff
Time to complete is 1 hour. This course fulfills the Step 4 requirement for training campground staff and for campgrounds that wish to take the Bare Campsite Program Pledge.  Only campground owners/managers that have taken the previous course can offer this to their staff. The content is the same as the course above except the online resources and Bare Campsite Program Pledge is omitted.
Please contact us if you would like to arrange for this online training or to purchase additional support materials at bc@wildsafebc.com.
Further training
It is recommended that campgrounds consider adding on our comprehensive Wildlife Awareness and Safety Course Level 1 certification for their staff. Information on this course can be found on our Courses and Training page.
Creating Habits that Last a Lifetime
When people go camping as a family, they are teaching their children about the joys of spending time outdoors and reconnecting to nature. This is also a great opportunity to learn about wildlife, their home and how we can make less of a negative impact on the environment by keeping it free of garbage and conflict. No one wants to see the garbage left behind by others. Keeping a bare campsite is a set of practices that can extend beyond the campsite to how we behave at home. Even in the most urban environments, wildlife such as raccoons, skunks and even coyotes may make an appearance. Keeping attractants secure at all times, is a way of coexisting with wildlife that keeps ourselves, our neighbours and our family safe from negative interactions that can also result in poor outcomes for wildlife.
Check out our WildSafe Ranger page for activities you can do as a family to learn about wildlife and reducing conflict and our annual colouring contest.
WildSafeBC Bare Campsite Program in Action
WildSafeBC first piloted our Bare Campsite Program with the Ucluelet Campground on the West Coast. We thank the operators for recognizing the value of the program and for being early adopters. The short video below features the campground and provides a snapshot of the benefits.