The Wildlife Alert Reporting Program (WARP) is a program developed by WildSafeBC to enable the public to view reports regarding wildlife made to the BC Conservation Officer Service 24/7 call centre at 1-877-952-7277. If the situation is not urgent, reports can also be made using the online form.
These reports are updated daily to a publicly available georeferenced map. The public can also sign up for a free account and receive alerts that are tailored to their species and location of interest. Learn how to get started here.
Reports may include: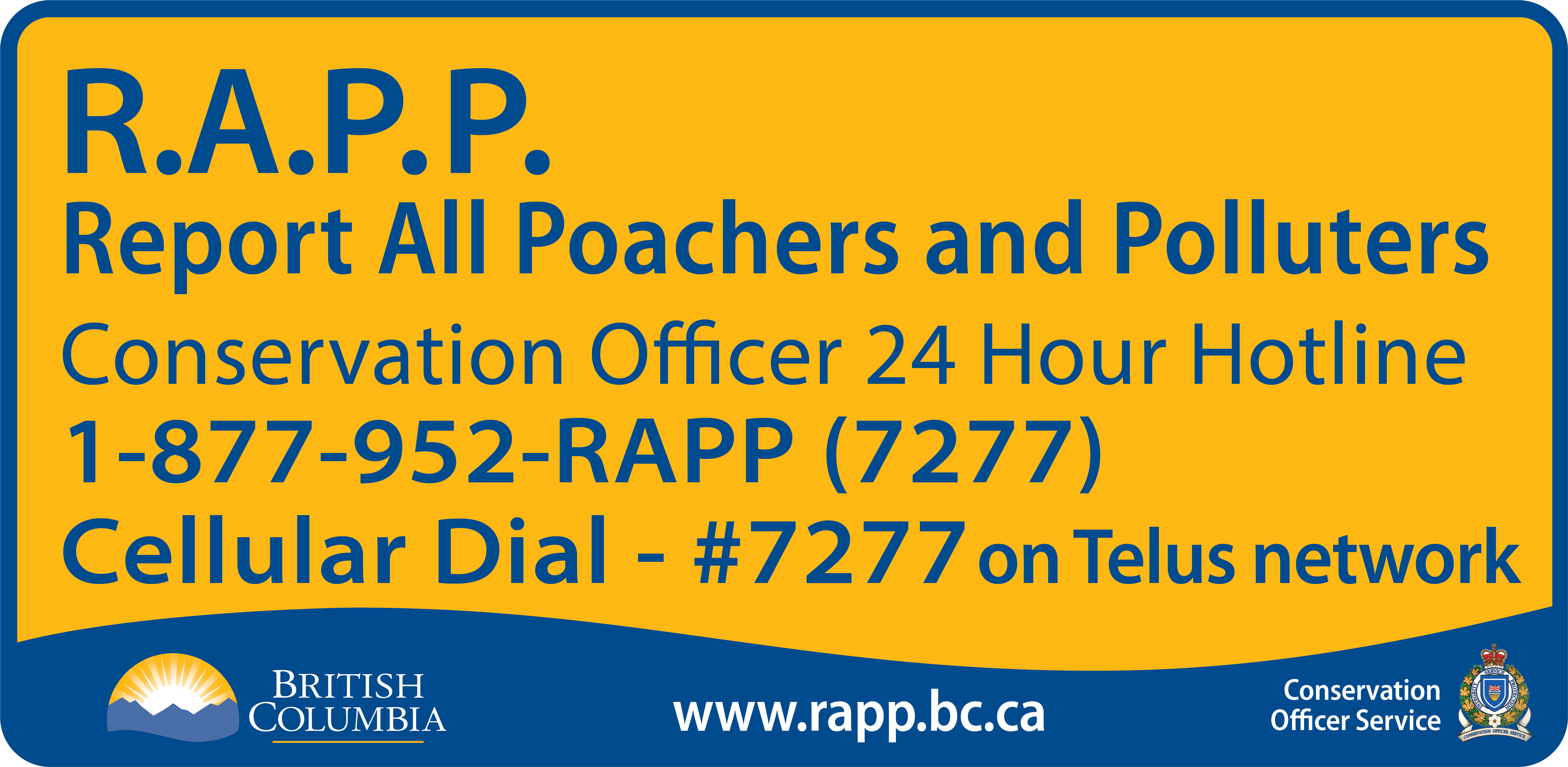 Sightings of bears, cougars or wolves in residential areas, near parks or schools or in urban areas
Reports of bears, cougars, wolves or coyotes acting aggressively, accessing human sources of foods, attacking livestock or pets or damaging structures
Wildlife in distress (injured, sick, orphaned, entangled or confined)
Dead wildlife that is a public safety concern (e.g. on a road way)
Wildlife attacks on people or pets.
If your community has "Bear Smart" or Wildlife Attractant Bylaws in place, reports of wildlife accessing these attractants should also be made to the local Bylaw Services Department. Local WildSafeBC Community Coordinators use these reports to prioritize education initiatives and work with the local community to reduce human-wildlife conflicts. Local programs are listed here.
WARP F.A.Q.s
What do the different colours of animals signify?
Currently we are not able to provide a legend directly on the map but each colour represents a different attractant involved in the report. The most common colours are turquoise (for sightings where an attractant was not reported) and red (which signifies garbage was reported as an attractant). You can view all the different colours and their corresponding attractants by navigating to the Query Filters & Options on the right hand side of the WARP screen.
What does the approximate symbol mean?
The information received by the WARP program requires an address to place it on the map. We do not place icons directly on an address in order to protect privacy but place them in the vicinity of the report. When an address is not provided, a general location is typically given such as the closest city. The icon is then placed on the centre of that community (very often it is municipal hall) and the approximate symbol is used to denote that the location is not precise.
Will the COS kill a bear if I call it in?
Generally, the Conservation Officer Service does not respond to bear sightings if the bear is not in conflict or posing a safety risk to the public. However, reports of bear, cougar and wolf sightings in urban areas or near residential areas or schools do help in many ways. The information is used to prioritize education efforts and better understand the prevalence and timing of bear activity. It also helps inform other users of WARP who have signed up for alerts and who visit the map for updates. We encourage more members of the public to use this free service to stay informed regarding wildlife activity in their community.
Should I report all wildlife sightings?
There are many species of wildlife in BC and to report all sightings to the Conservation Officer Service would overwhelm the call centre. Reports should be of a more serious nature such as outlined above. If you believe the wildlife you are dealing with are a "Species at Risk" (eg rattlesnakes, badgers, caribou, etc) then interactions where intervention by the COS is needed should be reported to the call centre. You can learn more about wildlife and their status by visiting the BC Species and Ecosystems Explorer.
Terms of Service
Please carefully review the terms of service which explains the limitations of how the information can be used.
If using this information in media or in a report, please cite "WildSafeBC Wildlife Alert Reporting Program" as your source.