IMPORTANT NOTICE
The Wildlife Awareness Reporting Program (WARP) Public Beta site (https://warp.wildsafebc.com/) is undergoing maintenance and is unavailable at this time. The site has not been performing at full capacity with some data and reports being inaccessible.
REQUEST FOR PROPOSALS
WildSafeBC has released a Request for Proposals asking qualified contractors to submit a proposal outlining how they will recreate our WARP site.
Deadline for submissions: October 31st, 2023.
Questions or submissions can be sent to Programs@WildSafeBC.com
WARP
The Wildlife Alert Reporting Program (WARP) is a program developed by WildSafeBC to enable the public to view reports regarding wildlife made to the BC Conservation Officer Service 24/7 call centre at 1-877-952-7277. If the situation is not urgent, reports can also be made using the online form.
These reports are updated daily to a publicly available georeferenced map. The public can also sign up for a free account and receive alerts that are tailored to their species and location of interest. Learn how to get started here.
Reports may include: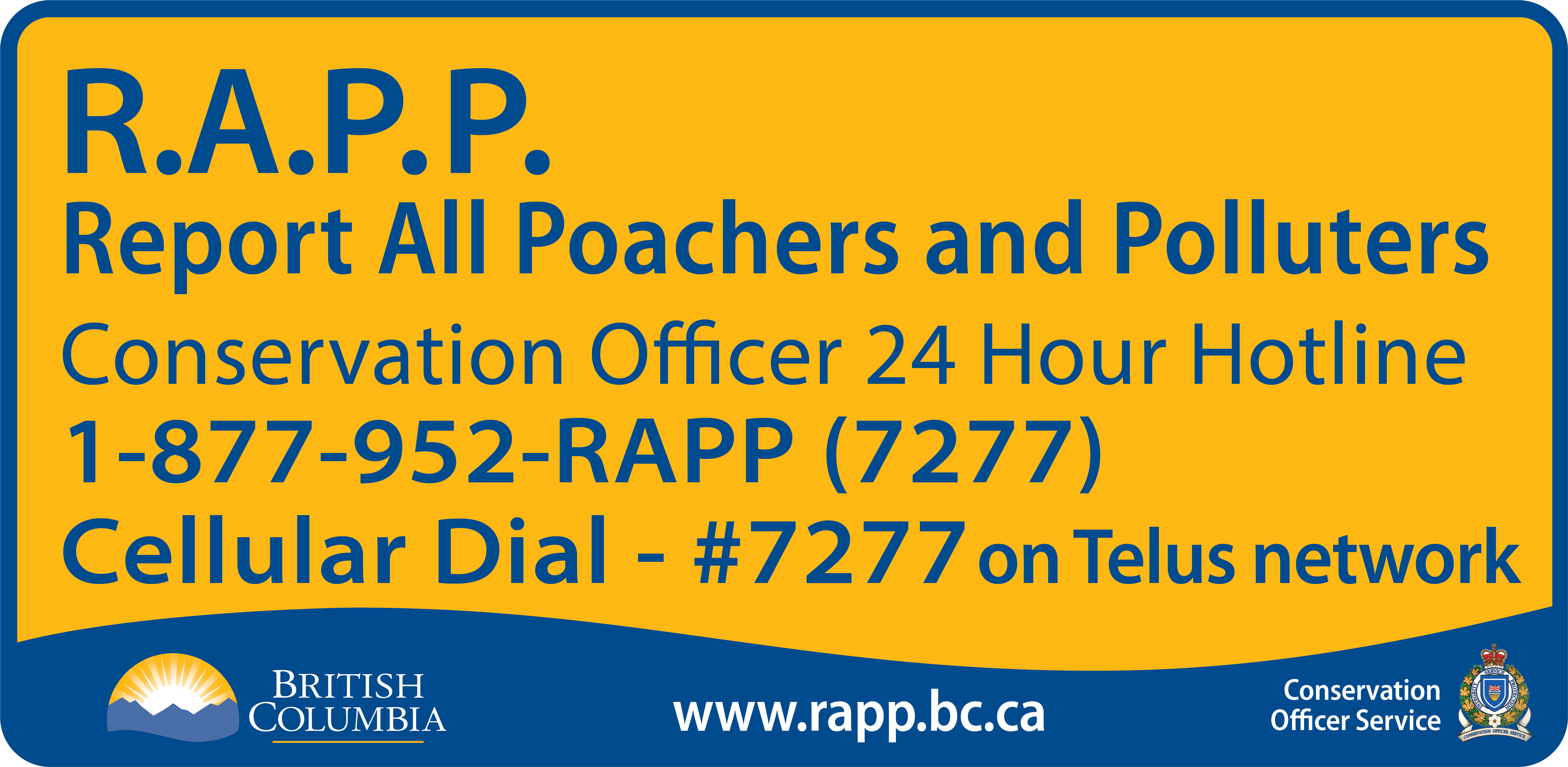 Sightings of bears, cougars or wolves in residential areas, near parks or schools or in urban areas
Reports of bears, cougars, wolves or coyotes acting aggressively, accessing human sources of foods, attacking livestock or pets or damaging structures
Wildlife in distress (injured, sick, orphaned, entangled or confined)
Dead wildlife that is a public safety concern (e.g. on a road way)
Wildlife attacks on people or pets.
If your community has "Bear Smart" or Wildlife Attractant Bylaws in place, reports of wildlife accessing these attractants should also be made to the local Bylaw Services Department. Local WildSafeBC Community Coordinators use these reports to prioritize education initiatives and work with the local community to reduce human-wildlife conflicts. Local programs are listed here.
WARP F.A.Q.s
What do the different colours of animals signify?
Currently we are not able to provide a legend directly on the map but each colour represents a different attractant involved in the report. The most common colours are turquoise (for sightings where an attractant was not reported) and red (which signifies garbage was reported as an attractant). You can view all the different colours and their corresponding attractants by navigating to the Query Filters & Options on the right hand side of the WARP screen.
What does the approximate symbol mean?
The information received by the WARP program requires an address to place it on the map. We do not place icons directly on an address in order to protect privacy but place them in the vicinity of the report. When an address is not provided, a general location is typically given such as the closest city. The icon is then placed on the centre of that community (very often it is municipal hall) and the approximate symbol is used to denote that the location is not precise.
When to Report Bears, Cougars, Wolves and Coyotes to the Conservation Officer Service
If you observe dangerous wildlife in an urban area involved in any of the following, please report the incident:
Accessing garbage or other human supplied food sources.
Instances where wildlife cannot be easily scared off.
Dangerous wildlife is in a public location like a city park or school during daylight hours.
When a cougar or wolf is seen in a urban area.
Observing dangerous wildlife in the woods, back country, forested areas or a wildlife interface is normal. We recommend that anyone spending time in these areas should ensure that they are familiar with how to react should they encounter dangerous wildlife. Please refer to our species pages for specific advice on individual species, learn by activity or take some of our online training.
When Do Conservation Officers Respond?
Conservation Officers respond to conflicts with dangerous wildlife where there is a risk to public safety. Examples of these situations include responding to attacks, bears breaking into buildings, repeated dangerous wildlife encounters at or near public locations, and situations where dangerous wildlife has become habituated (no longer afraid of humans) or food conditioned (dependent upon human provided foods) and now present a risk to public safety.
Terms of Service
Please carefully review the terms of service which explains the limitations of how the information can be used.
If using this information in media or in a report, please cite "WildSafeBC Wildlife Alert Reporting Program" as your source.